Swimming with disabilities can sometimes pose a problem when trying to locate the best flotation device for you or your loved one. The flotation device needed often depends on the level of support needed by the individual and their weight/size. Here are seven great options for flotation devices for swimming with disabilities.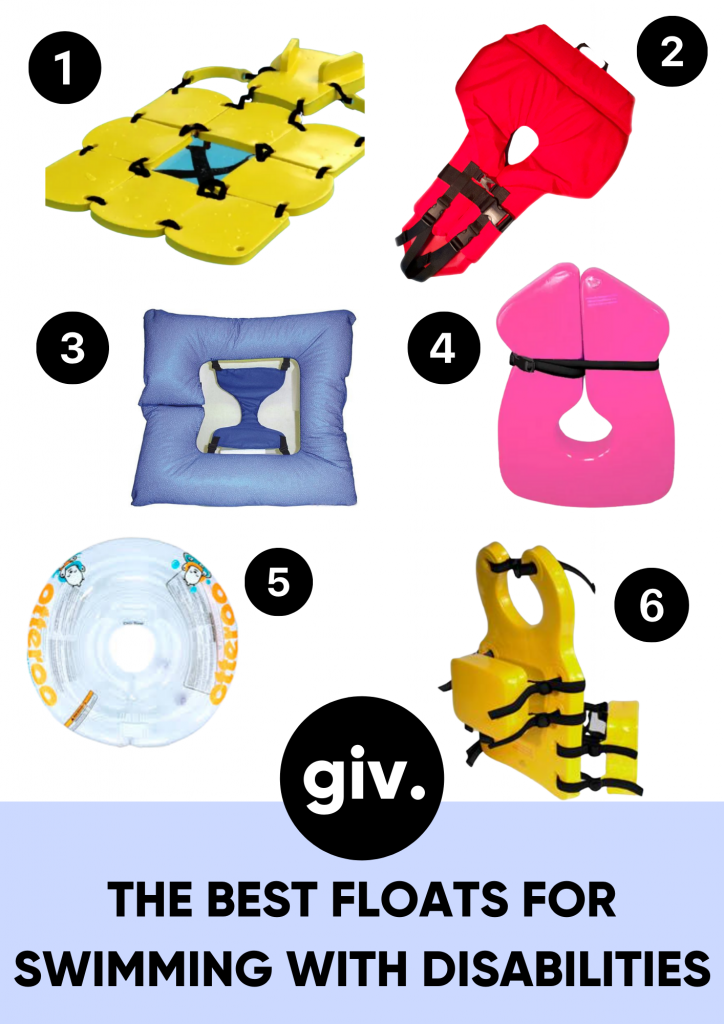 Swimming with Disabilities:
Swimming is an activity that everyone can enjoy regardless of physical ability. Studies have shown that swimming is found to relieve pressure on joints and muscles, build strength, positively impact mental health, improve heart health through cardiovascular benefits, and helps to give a sense of independence. These are all great reasons to get out in the water and have some fun!
Swimming Aids For Disabilities:
This floatation device comes in varying sizes that fit individuals from 35lbs, all the way up to 200+lbs. This float is great for individuals who have great head, neck, and trunk control, but are weaker in their legs. This float helps to get the user in an upright position in the water, and is one of the least restrictive floats on this list.
This company makes three separate floats that are all designed for users with disabilities. Each float has varying levels of support that you can choose from based on what will fit your specific needs best. One version helps the user maintain a floating position on their back, and the other two options help the user maintain an upright position. These floats can fit users from 18lbs up to 250lbs.
You might remember us mentioning the Otteroo in our post about Baby Gear for Developmental Delays. This float is great for infants and young children who need support in the water. This float is essentially an inflatable ring that goes around the neck and helps to support the user's head above water. The Otteroo comes in two sizes, and can be used for children up to 35lbs. This is the most cost efficient option on the list and is a great for younger children before you invest in one of these other options.
This float helps the user maintain a floating position on their back. There are safety straps to keep them on the float and prevent the individual from rolling. This is an ideal option for people who are non-ambulatory. The headrest is reversible, and allows for the head to be lifted out of the water in an elevated position for individuals who need that added measure of support.
This float has the least amount of support out of all the options on this list. It essential is PVC pipe fitted together with pool noodles around the frame, and a sling seat for minimal support for the user. The person who uses this needs to be very cognitively aware of their body and surroundings, and needs to have great head, neck, and trunk control, but just needs minimal assistance with walking/leg control.
This float helps the user maintain a swimming position on their stomach while giving them the support to keep their head out of the water. This is a great option for people with great head, neck, and trunk control, but struggle to keep their balance in a lateral position on their stomach. This float comes in two sizes, and can be used for individuals who weight between 30-200lbs.
This is essentially the adult version of the Otteroo. The float wraps around the neck and keeps the user's head above water while still allowing the user to maintain whatever posture they would like in the water (swimming on their belly, upright, on their back, etc…). This can be used for children as small as 20lbs and can be used for adults as large as 175lbs. This is probably the most cost effective and versatile option on the list and can be used for a wide range of abilities.
When making any major purchase for someone with a disability, make sure to consult a doctor or therapist who knows the individual personally so that they can help make a proper recommendation for something that will work best for your situation.
If you liked this post, The 7 Best Floats for Swimming with Disabilities, you might also like: