If you're bringing home an infant from the hospital, or are already home with a baby who might have some delays, here is our go-to list of baby gear for developmental delays from seasoned moms who have been in your position.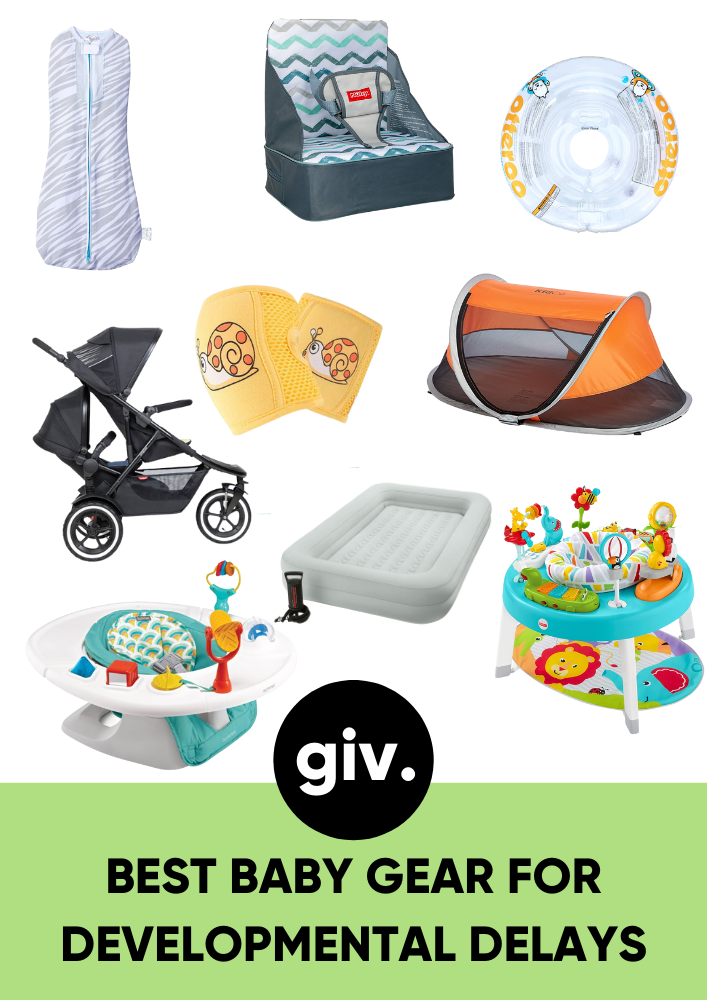 Baby Gear For Developmental Delays:
Having an infant who is not meeting their motor milestones can pose some complications as your child gets older, and you need products that can accommodate their level of development. Here is a list of Baby Gear for Developmental Delays that will hopefully prove to be a useful asset for your family.
It's hard to explain, but these are just superior to all other sleep sacks. They're fairly long and come in a couple different sizes. If your baby loves being swaddled, or even when they're a toddler and still need that sensory/pressure input from a swaddle, these Woombie Sleep Sacks are perfect! They last forever, hold up well in the wash, and the snap makes it hard for even the tiniest escape artists.
This chair is an amazing find! If your baby is still struggling to sit by themselves and you need a supportive seat for them to sit in, give this a try! It has a very high back that supports them up to their shoulders, the tray in front with the toys gives them something to lean on if needed, there are toys for them to reach toward and grab. The toy tray comes off and you can attach a tray table and secure the seat on a kitchen chair for feeding. You can even remove all the parts and just have a floor seat, similar to a Bumbo Seat, that you can use with your child. The tall leg divider helps them to stay seated without slipping, and it has a waist strap as well.
The Oteroo is a great option for bath time and swimming with a child who does not have the skills to support themselves independently. The Otteroo is an inflatable ring that goes around the neck of the child, and helps them to float in a pool or tub. The Otteroo does need to be used with adult supervision, like any flotation device, but it does meet the safety standards for the United States and European Union. The Otterroo is even used by licensed therapists in Aquatic Therapy for children with disabilities. The Otteroo comes in two sizes and works for children up to 35lbs.
A baby stander that does not have wheels is a great option if your baby enjoys being up on their feet. The seat for the baby often has high enough support for the baby to lean into while playing, and they have lots of great toys attached for your child. You want one that allows your baby's feet to touch the ground, as recommended by most physical therapists. This will ensure your baby has a solid base of support, and will promote good leg health for their developing muscles.
While pack-n-plays are great for any baby, your child might still need a safe place to sleep while traveling long after they outgrow the pack-n-play. This travel air mattress for toddlers has an inflatable wall on all four sides to keep your child in the bed if they roll around a lot in their sleep. This is a great solution for camping, going to a babysitter, hotel stays, etc…
This tent is another great sleeping option for travel. It folds up into a super thin disc that easily fits in a suitcase. The tent has a built-in soft pad for comfort. If fully zips up so you don't have to worry about sleeping falls with your child. This isn't as big as the air mattress option, but would work well for kids up to about 3-4 years of age depending on their size.
If your child is an older crawler, or is going to be crawling around outside, these soft knee pads are amazing. They're really great at protecting knees from scapes in the grass, carpeting, and other rough surfaces, especially in the summer months when your child is wearing shorts. Bonus points are that they are soft, and look cute too.
It's hard to pick one stroller that is going to be right for you. Budgets, the size of your car, your lifestyle, etc… a lot of this will dictate what you will and will not need in a stroller. However, if you think there is a good chance you will be using this stroller for 5-6 years with your child, this should be the number one place you invest your money. The best recommendation we have is to get a really nice stroller that can convert between a double stroller and a single stroller. That way if you have other children that need to also use the stroller while your child with disabilities is using the stroller, you have that option. You will likely want to test drive some in a store like Buy Buy Baby that has a wide variety. Some of our favorite brands are Phil and Teds, and Baby Jogger!
If you're a family who likes to eat out, a portable booster seat will be a great investment. Not all restaurants have high chairs or booster seats, and if your child is taller, they will quickly grow out of those restaurant high chairs anyways. This is a great item to purchase and leave in your car so you always have it when needed.
These are some of our best recommendations, if you have things you've loved, please share in the comments below!
If you liked this post, Baby Gear for Developmental Delays, you might also like: