Fall is the perfect time to get outside, enjoy nature, and do some fun seasonal activities. Here are several fall activities for adults with disabilities that you can do over the next few months on your caregiving shifts or together as a family.
Why Plan Fall Activities for Adults with Disabilities?
Taking advantage of the seasons and switching it up from time to time is a great way to break through the monotony. By planning some fun activities that are different than something you would normally do, you create more excitement in caregiving for yourself and your client. You're also creating new memories together and having fun experiences that the person receiving care might not have tried before.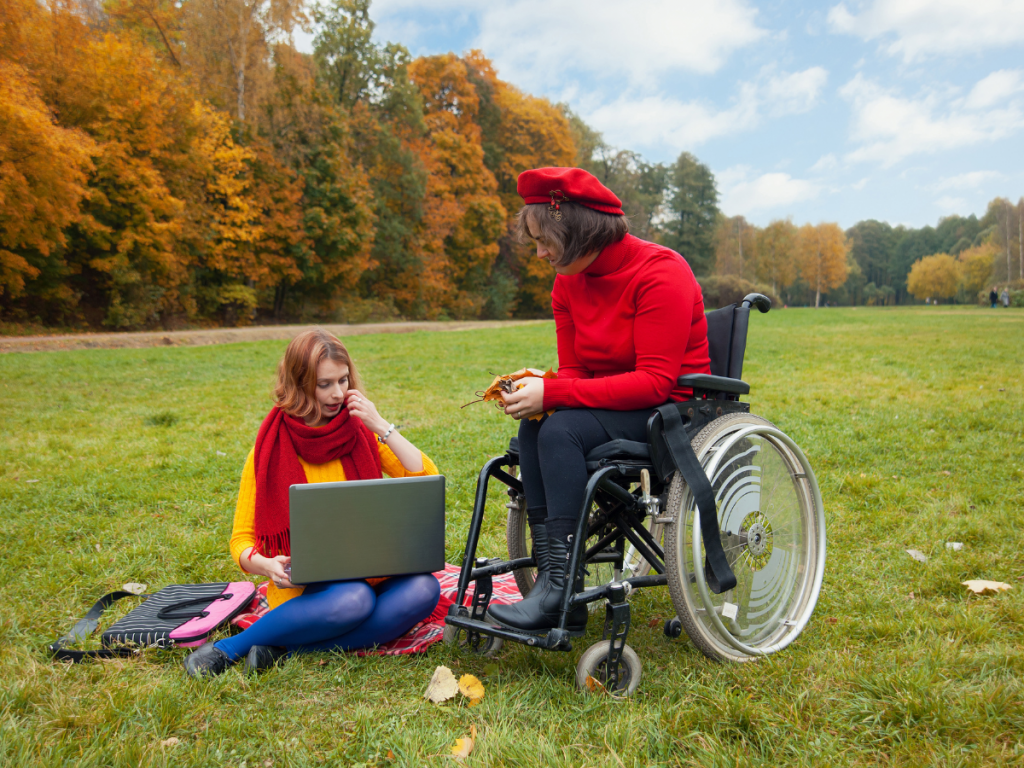 The Best Fall Activities for Adults with Disabilities:
These fall activities are the best for adults with developmental disabilities because they're just basic activities that anyone would love, disabled or not. You really don't have to think too far out of the box, and hopefully this list can spark some. ideas of things to try over the next few months. Adapt what you need to work for your client or loved one, and have some fun!
Apple Picking:
Apple picking is a great way to get outside and get exercise at the same time. You can spend as long or as little time as you like, and then when you're done at the orchard you can make apple pie, apple sauce, or a variety of fall treats. You can also pick a bunch of different kinds of apples and then have a taste test to decide which one you and your client like best.
Pumpkin Patch:
Pumpkin patches are fun because they offer so many more activities other than picking pumpkins. You can try a corn maze, play giant yard games, and so much more. If you're local to Utah, probably one of the best kept secrets is Pack Farms. Admission is $4 per person and they have so many activities for people of all ages. A definite must during the fall season!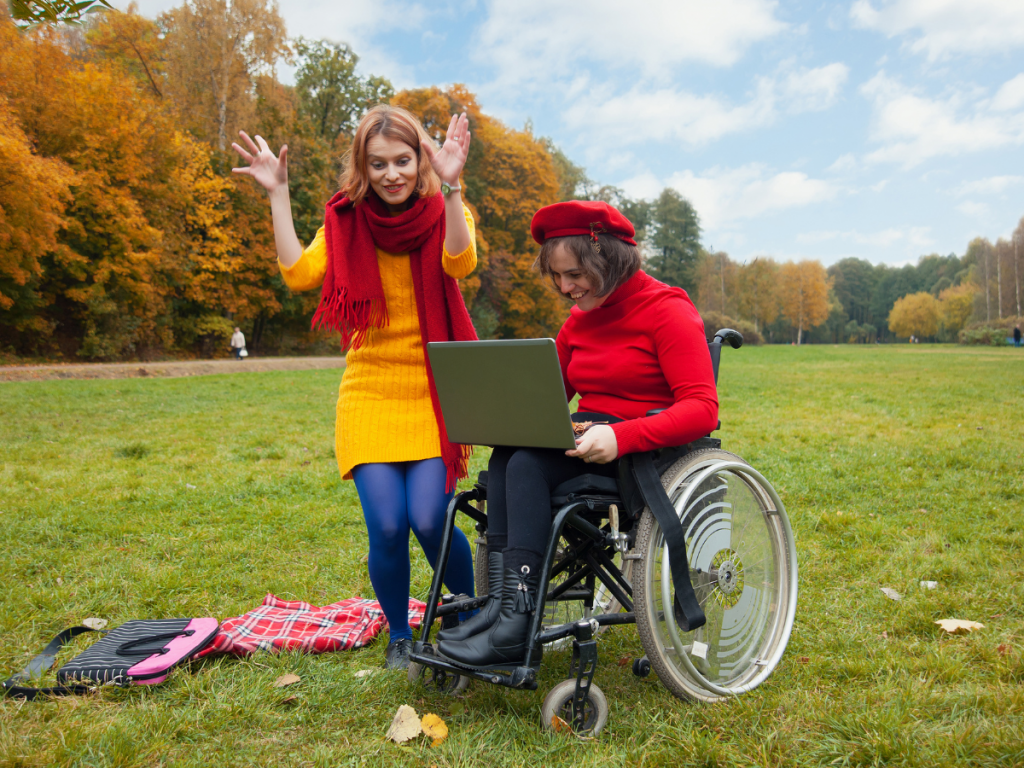 Leaf Scavenger Hunt:
Head outside and see how many leaves of different shapes and colors you can find. When you're done you can bring them inside and try to glue them to some paper to make some art, or put a piece of paper of them and color on them with a crayon to make an imprint of the leaf. There are so many different activities you can do with leaves in the fall.
Paint Pumpkins:
If you're not afraid to get messy, painting pumpkins is a super fun activity. There doesn't need to be any structure, and it certainly doesn't have to be perfect. This activity is all about having some fun! Get some paint at the dollar store and a cheap pumpkin from the grocery store and you're good to go.
Carve Pumpkins:
If there are no concerns with knives, try carving some pumpkins! This is a great fine motor activity. You can scale the help you offer your client based on their needs, but they can practice cutting, scooping seeds, tracing the picture, and cutting out the pumpkin pieces. When you're done, you can even bake the pumpkin seeds together.
Bake a Fall Treat:
There are hundreds of different recipes you can bake in the fall. Find out which fall treat your client loves most and make a plan to bake that together. You could make pumpkin chocolate chip cookies, pumpkin pie, apple sauce, etc…
Gratitude Tree:
Make a giant paper tree to hang somewhere in the home. Then cut out some leafs with paper. Each time you see your client throughout the fall you can add a leaf to the tree with something that brings the two of you gratitude. By the time Thanksgiving rolls around, it will be fun to see how full your tree has gotten.
Nature Walk:
Get outside and simply enjoy time being out in nature. You could make a scavenger hunt and find a bunch of different things outside such as squirrels, acorns, leaves, etc… and mark them off on your list as you see them. Also be sure to checkout some of our favorite accessible hikes in Utah for some pretty autumn views.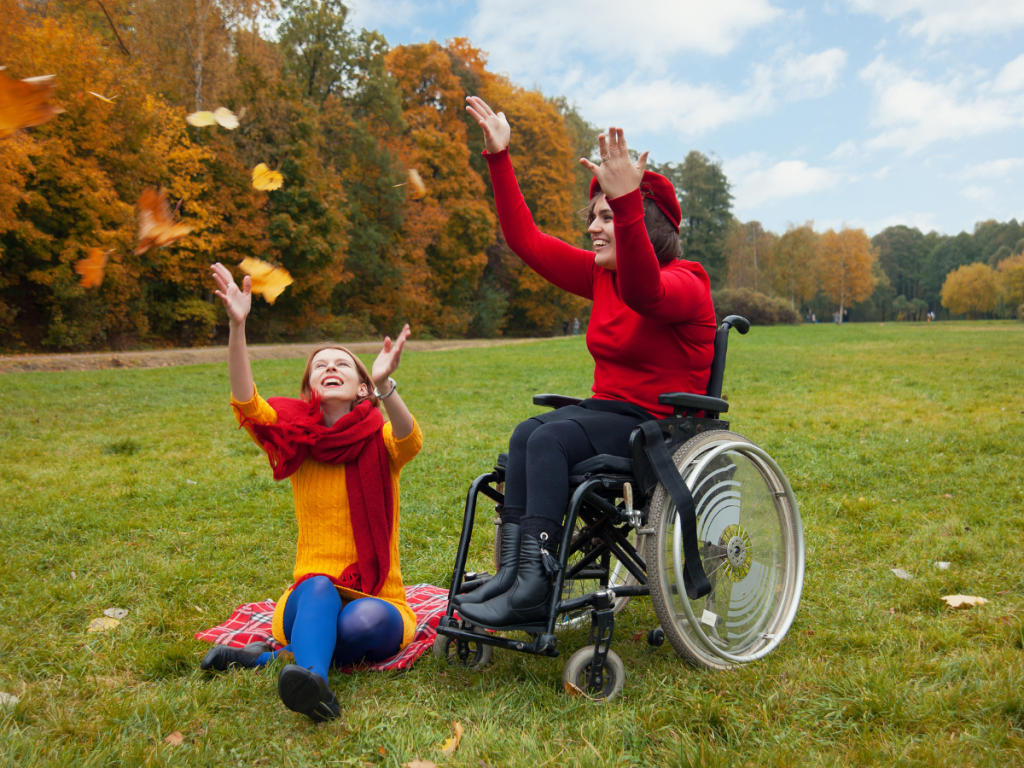 Fall Sensory Bin:
Fall sensory bins can be a great indoor activity if it's too cold to get outside. You could use some dry popcorn kernels for the base of the bin, and then add in things like leaves, acorns, different colors of dried pasta, and little items that you can find at the dollar store! You could make this in a large plastic tub and then store it somewhere in the house and pull it out whenever you need something to do during a caregiving shift.
Fall Themed Jigsaw Puzzle:
Jigsaw puzzles are a perfect activity for a slow fall day. If you're interested in supporting another Utah Business, Dowdle Art has some amazing puzzles, and this pumpkin one is great!
If you liked this post, 10 Fall Activities for Adults with Disabilities, you might also like: