Some individuals with disabilities might need the extra support that comes with a car seat or harness to keep them safe while in a vehicle. This list of car seats for children and adults with disabilities has everything from car seats to harnesses, and some other great tips, tricks, and items for keeping your loved one safe in the car.
Best Car Seats For Children with disabilities:
This carseat is a great purchase option if you have an infant that you know will likely have developmental delays and suspect that they're going to need a carseat longer than most individuals. This carseat works for infants as small as 5lbs, and can convert into a high back booster seat with an overall weight capacity of 85lbs. This is a single purchase item that you know will stand the test of time for your child. It also offers lots of padding and support to ensure safety and comfort for your child.
This is another great one-time purchase carseat. It can be used as a rear facing seat for children up to 40lbs, and then can be turned around to a forward facing high-back booster seat for children/adults up to 120lbs. This Radian 3R seat is only recommended for individuals up to 57 inches tall, but the Diono Monterey XT car seat is deigned for individuals up to 63 inches tall.
This car seat is specifically made for children with disabilities who lack the trunk, head, and neck control necessary to sit in a traditional car seat. This seat comes with a variety of customizable add-ons when purchasing including, large cushioned head supports, and an abductor insert to help separate and pad the legs. This seat is a forward facing seat, but it also maintains a more reclined position for people who cannot support themselves in a completely vertical posture.
This is another disability specific car seat. It can recline anywhere from 90-180º so that the user can maintain a posture that is most comfortable and safe for them. It can be used for individuals up to 5 feet tall and 108lbs. It comes with all the extra straps, supports, cushions, and comfort details that you would want in a car seat.
This car seat is a great option for children who need the support of being in a car seat for an extended period of time, but doesn't necessarily need the reclining options and additional supports that the disability specific car seats offer. This seat can be used for individuals 4-120lbs. It can also be used as both a forward facing and rear facing car seat. The best feature of this carseat is that it rotates. This means that it can rotate facing out of the car when you're getting the child buckled in, and then rotate back into the car into the correct position when you're ready to go. There is a locking mechanism to ensure it's clicked back into place before you take off for optimal safety. The benefit to this feature is that you don't have to worry as much about bonking a head getting the child into and out of the car all the time, which is a great feature for some kids as they get bigger!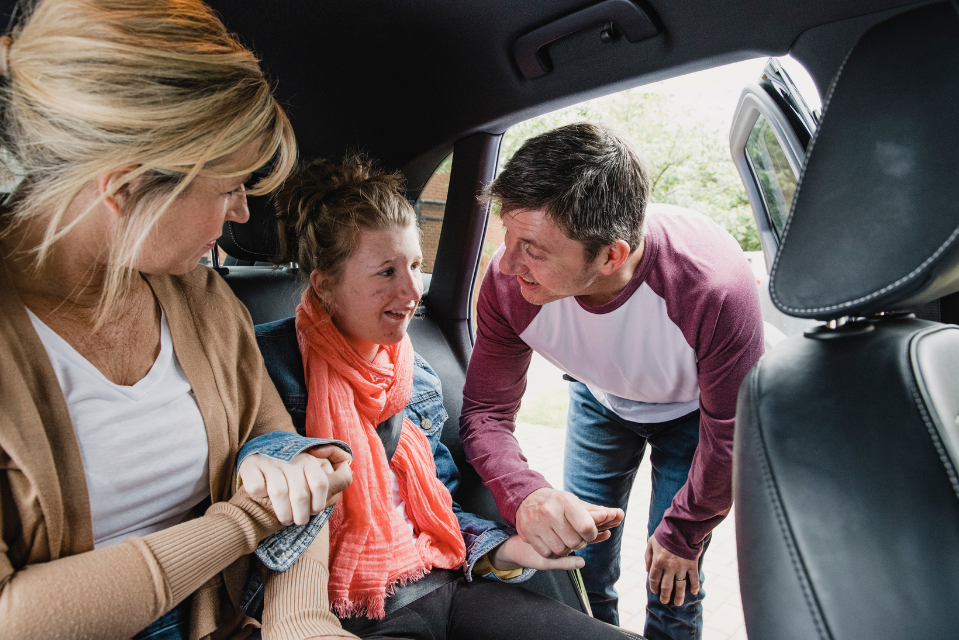 Best Car Seats for Adults with Disabilities:
Unfortunately, there aren't many options for adults that look like a traditional carseat. Many of the options listed above go over 100lbs, but the height requirements often don't exceed 5 feet tall. If you're loved one needs a car seat that is able to recline, but they don't meet the height and weight requirements of the seats above, you may want to speak with a medical equipment specialist, such as National Seating and Mobility who might be able to find a custom piece of equipment that will work best for you or your loved one.
Another option would be to look into purchasing an accessible vehicle that would allow for someone to ride in the car in their own custom wheelchair. This post about grants for individuals with disabilities has some information about funding these types of vehicle modifications.
There are a small handful of booster seat and harness options for adults with disabilities that include:
This booster seat comes in two different sizes, one for children and one for adults. The adult size can accommodate users up to 72in and 175lbs. This seat has a booster seat base, torso support system, positioning vest, and a variety of different straps to help fit the user into a safe position, while also attaching into the car for optimal security. It utilizes the latch system in a car like a traditional car seat. This is a great option for anyone who can maintain a vertical posture, but just needs more support to safely hold the position for an extended period of time.
This harness system works similar to the one previously mentioned. The difference with this one is that it does not have the head support that the Churchill option offers. It does offer torso and leg support, and can be used for individuals up to 225lbs, making it the product with the highest weight capacity on this list.
Funding a Car Seat Through Medicaid:
You may have noticed that many of the items on this list are very expensive. It is possible to get a carseat funded through medicaid. The process for this is lengthy but if you can get a doctor to medically state that a traditional car seat will not work for the individual who is trying to receive funding, the doctor can write a prescription to a seating and mobility company (either a private company or often available directly in your local hospital), and they can order the car seat for you. Going this route can often take about 6-12 months to receive your equipment, but it is a great option to consider if you don't want to pay out of pocket for the car seat.
Another option is to look into your local Shriner's hospital. They have a car seat clinic that they hold several days per month, and they can get you fitted for the correct car seat, and often order it for you free of charge. The wait time on this option is often the same as the medicaid route, but it's a great choice for those without medicaid coverage.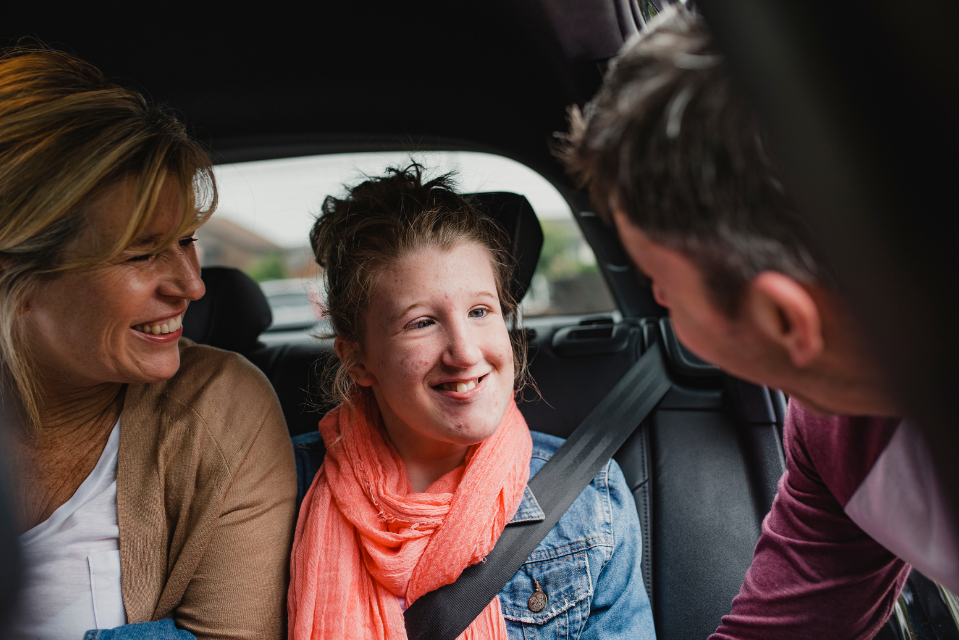 Handicap Car Accessories:
There are a handful of car accessories that might be beneficial for individuals with disabilities. These range from small accessories to more expensive vehicle modifications:
This cushion is placed on the normal car seat, and simply helps an individual rotate into the car. They sit down with their legs outside of the car, and then use the cushion to help rotate their body and legs into the car. It's not car safety approved, so you do have to remove it from underneath you when the car is in use.
This small bar hooks into the opened door latch of a car when the user is trying to enter the vehicle. Once it's inside the latch, the user can grab onto it and help pull themselves into the vehicle. This is great for older people with limited mobility, and helps take some of the lifting burden off of the caregiver.
This seat belt cover attaches to your traditional seatbelt. You can customize the cover to have any pertinent medical information on it such as "deaf, diabetic, wheelchair user, autism, nonverbal, cerebral palsy, etc…" Should you ever get in an accident and need help from emergency responders, they will be able to see right away what type of help and accommodations the individual might need, and provides them a way to respond accordingly.
This is a great modification to add to your vehicle without spending all the money that goes into getting a fully loaded handicap accessible car. This Turny seat replaces one of the regular seats in your car (has to be either one of the front seats, or a captain seat in the back if your car as those). The seat rotates out of the car, and then lowers down toward the ground so that someone in a wheelchair or walker can transfer into the seat easily. The seat will then lift and rotate the person back into the car. These seats cost about $10,000, but they can be put into a new car if you upgrade your vehicle at some point, and there may be grants available to help cover the cost.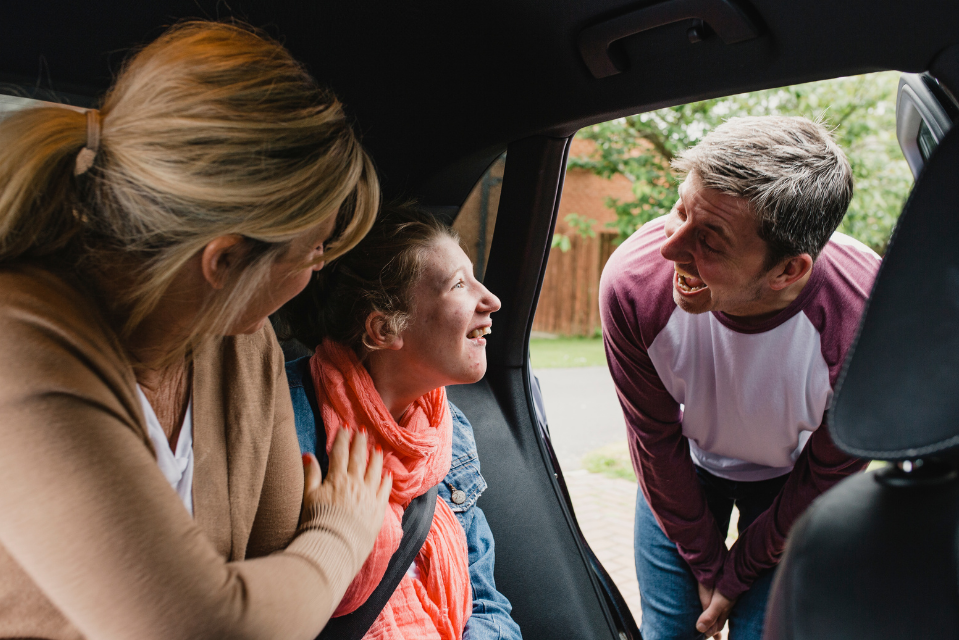 If you like this post, Car Seats for Children and Adults with Disabilities, you might also like: