If you need some crafts for adults with disabilities to work on during your next caregiving shift, here are some great crafting kits you can purchase on Amazon with everything you need in one easy box! Bonus points, all these craft kits are under $20, and likely less than you would spend if you bought everything individually at a craft store.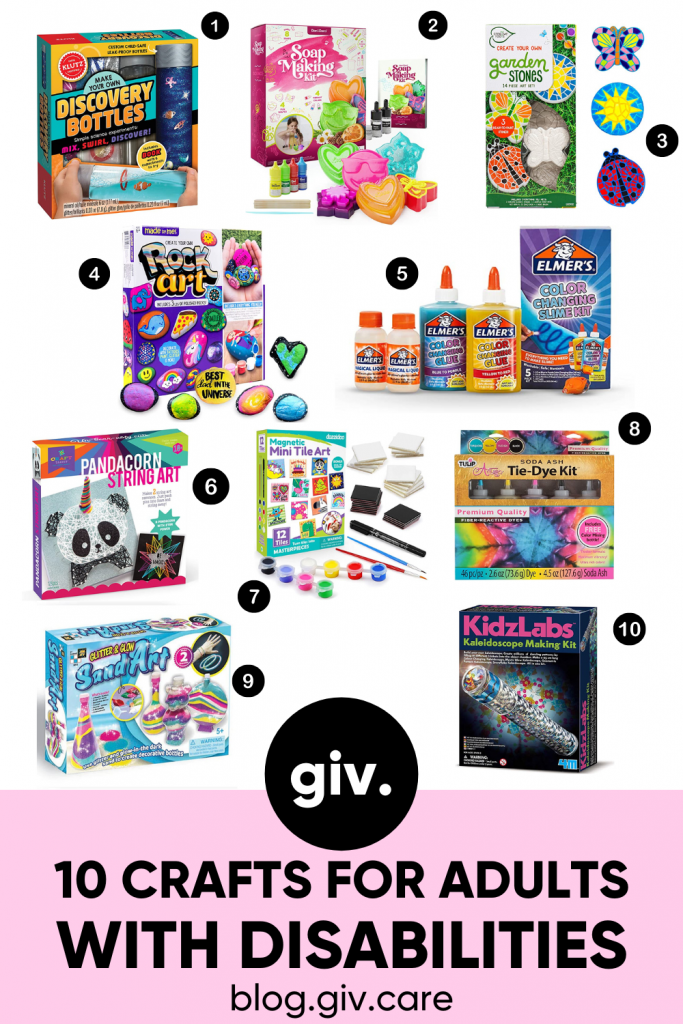 These sensory bottles are a fun activity where you combine water, food coloring, and a bunch of little toys and craft pieces into a plastic bottle. Then you can shake it around and see all the fun things inside. This kit comes with everything you need to make two different themed bottles including the galaxy and the beach.
String art is one that takes a bit of patience, but it can be really fun and have a cool result. This kit comes with a small board that you stick small nails and pegs into and then you can loop string around all the nails to form a pattern. The end result reveals a cool panda shape. You can also just let the person you're working with do their own thing and not worry too much about the final result.
Sand art is a super easy and fun project. Here you'll just layer all the different colors of sand in the provided bottles. This kit comes with everything you need to make three different sand art bottles.
Everyone loves slime right? If you're feeling adventurous enough to make your own this can be a great sensory activity. This kit allows you to make two different types of slime, and they even change colors! This will definitely make for a great caregiving shift!
Rock painting is an activity that can be as detailed, or not detailed as you want. You can paint the rocks to your heart's desire, and then you could even hide them around town and turn them into geocaches. This could be a great 2-for-1 activity.
Kaleidoscopes can be a super great visual sensory. Making your own makes it all the more fun. This kit makes just one kaleidoscope, but it has great reviews and looks like it won't break easily. Definitely a project worth trying on a caregiving shift at some point.
This magnetic tile kit is a great project to work on if you need something to pass a lot of time. It comes with 12 tiles that you can paint. Then when you're done you can attach a magnet to the back and hang them around the house. You can even take them around to neighbors or gift them to friends afterwards.
DIY garden stones are a great project to work on if you want to add some colorful decor to your garden space. Your client will love painting these three stones that are in the shape of the sun, a butterfly, and a ladybug! They're super easy to make, and can be a great foundation to a small outdoor garden that you could plant together as well.
Hand washing is infinitely more fun if you made the soap yourself. The soap making kit comes with everything you need to make 8 different bars of soap in a variety of different shapes and colors. This kit comes with lots of customizable options, so no two soaps will be the same.
Does anything say summer more than a tie-dye t-shirt? This kit comes with 4 different color dyes, and all you need to do is find a shirt, tie it up, and squirt the colors directly on the shirt! This is definitely a messier project, so we recommend taking it outdoors!
We'd love to hear about the crafts for adults with disabilities you love working on! Let us know in the comments below!
If you liked this post, 10 Crafts for Adults with Disabilities, you might also like: