The hardest part about gaining independence in the kitchen is finding the right adaptive tools to meet the needs of the individual with disabilities. Here are 15 great pieces of adaptive kitchen equipment to try for yourself or a loved one.
Adaptive Kitchen Equipment:
Adaptive kitchen equipment doesn't have to be specifically marketed products for individuals with disabilities. It can simply be anything that helps make their job in the kitchen easier and that gives them more independence. These products are all fairly inexpensive but could help make a world of difference for someone with a disability.
These spatula tongs are great for picking things up off of a grill or hot pan that would normally be too difficult for someone using traditional tongs. These help make those tasks easier by having a larger surface area to grab food and transfer it to a plate.
This cutting board is great because it stays firmly in place on the counter without sliding around. This is helpful for someone with a disability because it means they're able to use both hands to focus on cutting without worrying about the board moving underneath them.
This can food strainer goes over the top of your standard 14oz can and helps to drain the liquid from the can so that all the food doesn't fall into the sink with the liquid. This is great for someone who doesn't like getting their hands messy while pouring, and also for those who have a hard time pouring out the liquid carefully enough.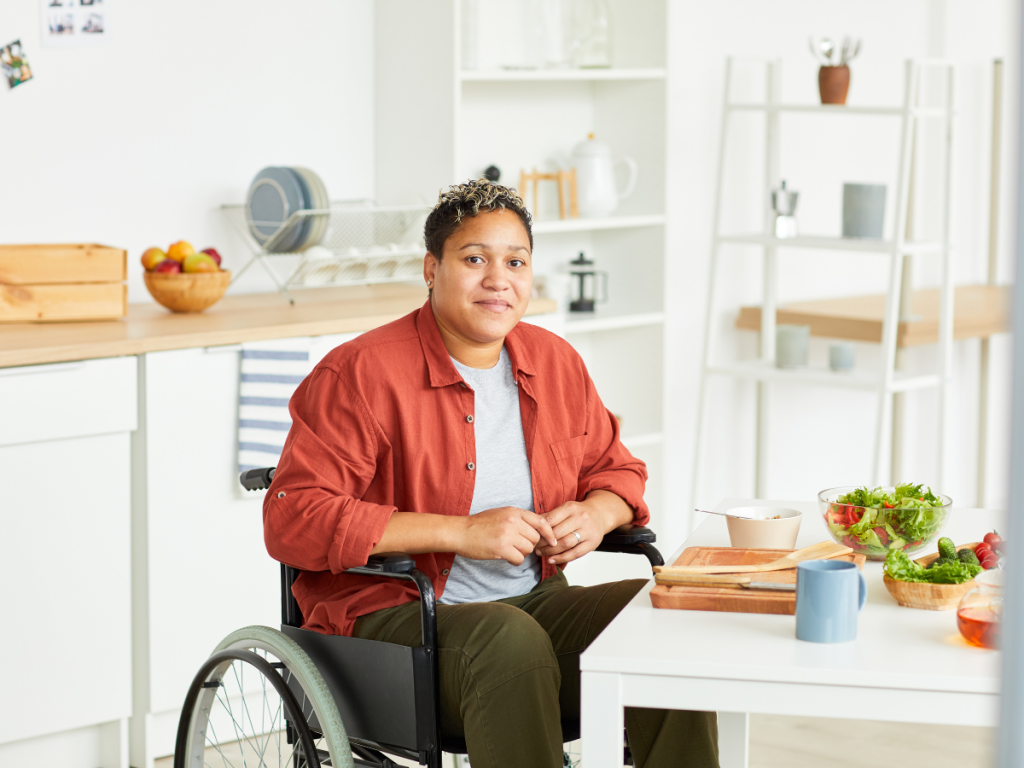 For those who struggle with hand grasp, easy to grip utensils are the perfect way to go. They work just like a regular fork or spoon but have a wide rubber grip on the end so that they're easier to use for individuals who struggle with holding onto their utensils. This comes as a complete fork, knife, and spoon set for under $20!
This is one of the most genius things we've ever seen. It's a fork/spoon set that charges with a USB. It has a computer built into it that rotates and keeps the fork or spoon attachment level at all times so the food never falls off of it. The spoon and fork attachments come off so they can be easily cleaned. If you have a loved one who struggles with this aspect of eating, you should give this a try!
This rocker knife helps you cut food by placing it onto the food you're trying to cut and simply pressing it in a back and forth motion. You don't need to hold the food down with a fork and the food can be cut entirely one handed.
This plastic pizza cutter is great because the user cannot cut themselves with it. The pizza cutter can be used on sandwiches, quesadillas, and a lot of other soft foods.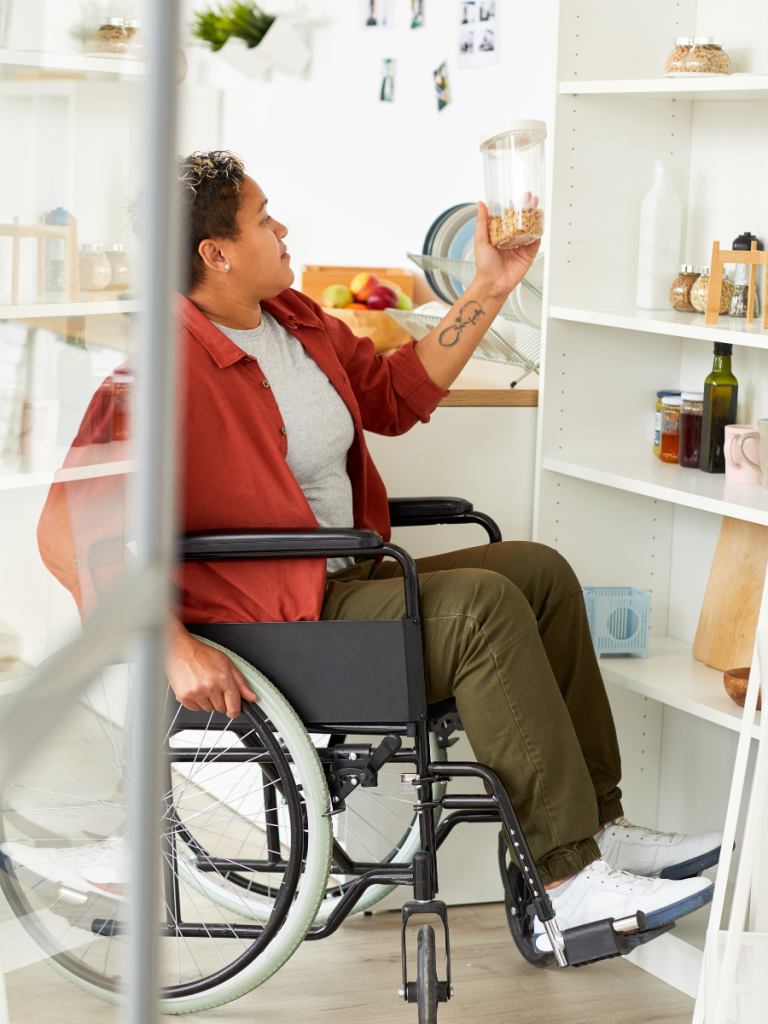 This smooth edge can opener makes it so that there are no sharp edges when a can is opened. The benefit being that no one gets hurt!
These OXO pop containers are a great way to store foods that someone might need to access on a regular basis. They open really easily by pressing down on a big round button and are super easy to close as well. This is a great way to avoid opening and closing tricky packaging on a regular basis.
You can slip your entire hand into this vegetable peeler which makes it easier to prep veggies in the kitchen and makes it less likely for you to cut yourself since it has a plastic shield covering the blade.
This veggie chopper makes it easier to dice vegetables for soups, stews, and a variety of recipes. Simply cut off the stems and set the veggies inside the chopper. Press down on the top of it and you have diced veggies in no time!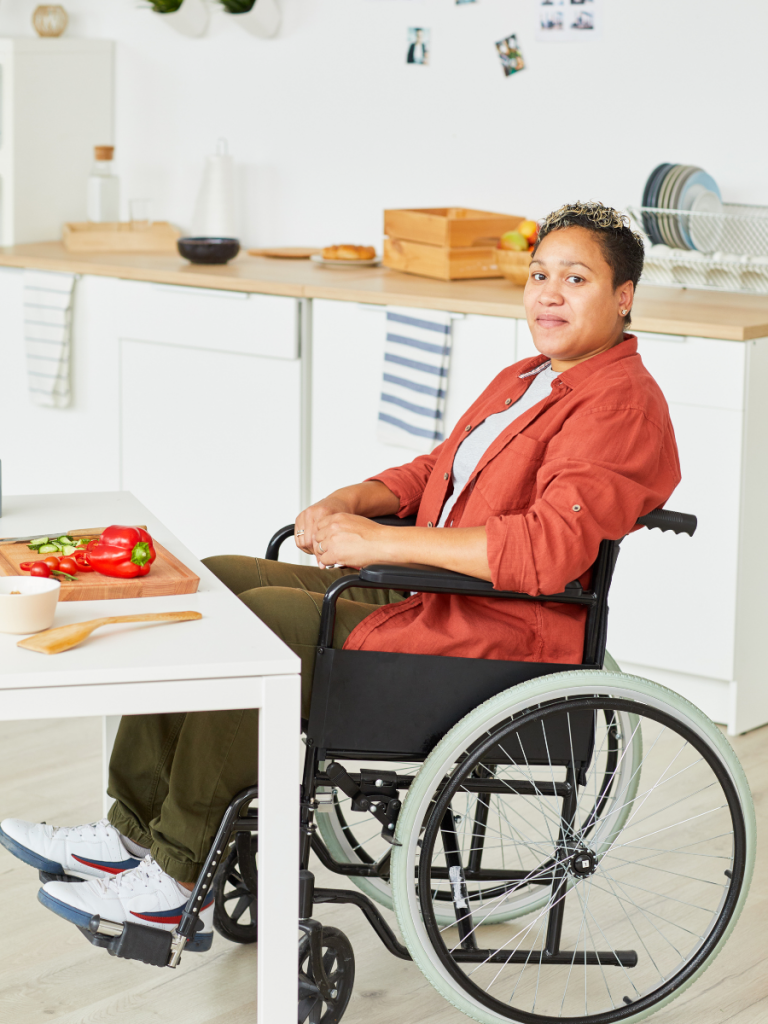 This knife makes a right angle so the user can grab onto it without having their hand too close to the blade. They make a carving knife version and a bread knife version so you have options for your varying needs.
We don't exactly understand the science behind this contraption but you essentially stick the hard boiled egg inside, shake, and the peel comes right off. Everyone could practically use this in their lives.
These mixing bowls have an ergonomic handle on the edge so the user can hold onto the bowl while they mix more carefully. They come in a set of varying sizes so you have a bowl for any task you might need to complete.
This automatic pan stirrer gets turned on and set in the pot/pan you're cooking with and stirs the food for you so you don't have constantly be stirring something. This is great for someone who cannot stand at the stove for a long time, or their arm tires quickly from stirring.
If you liked this post, Adaptive Kitchen Equipment, you might also like: