Christmas is just a few short weeks away, and many people have already started their Christmas shopping. If you're looking for gifts for adults with disabilities, hopefully something on this list will be just the item you're looking for.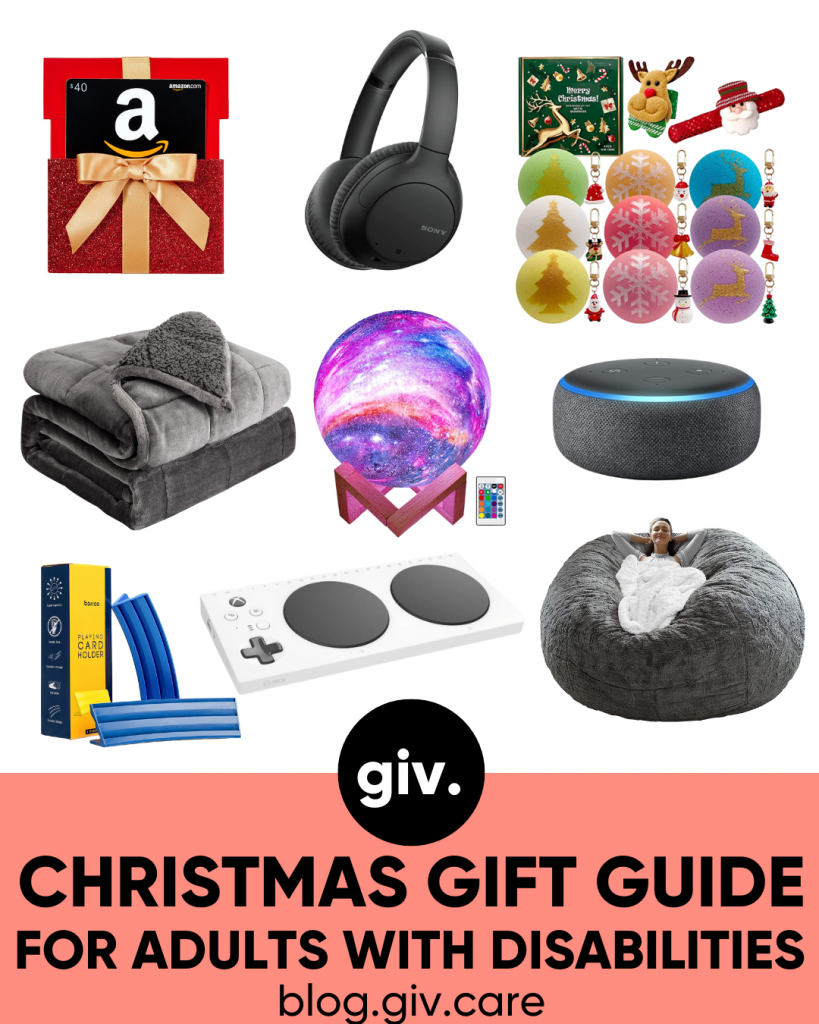 Considerations for Gifts for Adults with Disabilities:
Our focus on this list is primarily gifts for individuals with intellectual disabilities. These individuals can often be hard to shop for because often you want to strike the balance of something that is age appropriate, but also something that they'll enjoy. Here are nine great gift options that we think anyone would love and enjoy, along with several posts linked at the bottom with even more gift options!
Weighted blankets are a great gift for anyone! They're so warm, cozy, and feel like a big giant hug every-time you put one on. If you know someone who loves that deep pressure and sensory input on a regular basis, a weighted blanket could be a great gift for them.
What restaurants does this person love? The one that they ask to go to every time you see them. Get them gift cards so they can enjoy that place! This could also be great for a store they love to visit or anywhere local to them. That way they can pick out what they would like without you having to stress too much about it. Plus, who doesn't love shopping?
The Microsoft Adaptive Controller is specifically for PC games and the X-box. It is great for someone that you know who loves video games, or is interested in them, but might have motor impairments that prevent them from being able to play well. This controller makes it so much easier to play the games and has customizable buttons that you can set for the exact preferences of the user.
Get them a fun chair to sit in. If they have sensory needs and love the feeling of rocking back and forth, a swing or gaming chair might be a great fit for them. If they just like being cozy, then a bean bag chair might be a great pick for them as well. Think about their needs/likes and make the best choice for them!
Give the gift of Alexa! Alexa can play their favorite songs, do quick math, tell you the weather, answer questions, and so much more. This could be a great tool for someone who is working towards gaining more independence. Alexa can set alarms and reminders and so much more.
Bath bombs are a fun sensory gift idea for people who like taking baths. We've linked to a fun Christmas set that has a Christmas surprise inside each bath bomb. This is the perfect small gift to get someone, and it even works on personal hygiene goals at the same time.
There are so many great card games for adults with disabilities, but sometimes holding the cards can prove to be very tricky. These playing card holders allow the individual to stand all their cards up in one spot without having to hold their cards the entire game, and they can easily see which cards they have.
There are so many fun and creative lava lamps, sensory lamps, moon lamps and more available on Amazon. There is bound to be something that would be a hit for your certain person. These are great for individuals who have high visual stimulation needs and love watching fun and abstract things like this.
Noise canceling headphones are a great gift for individuals who are very sensitive to sound. There are so many different variations out on the market. They're available in a wide range of price points, but we recommend going with a well known brand such as Bose, Sony, Raycon, or Beats.
If you liked this post, Gifts for Adults with Disabilities,You Might also Like:
We've written many posts over the last several months that could also be great for shopping for an adult with a disability that you know. Here are some more gift ideas that could be helpful: