Riding a bike is an experience that everyone should be able to enjoy. For adults with physical disabilities, it can be challenging to find just the right bike. Here are five tricycles for adults with disabilities, we hope one of them will work for you or someone you love.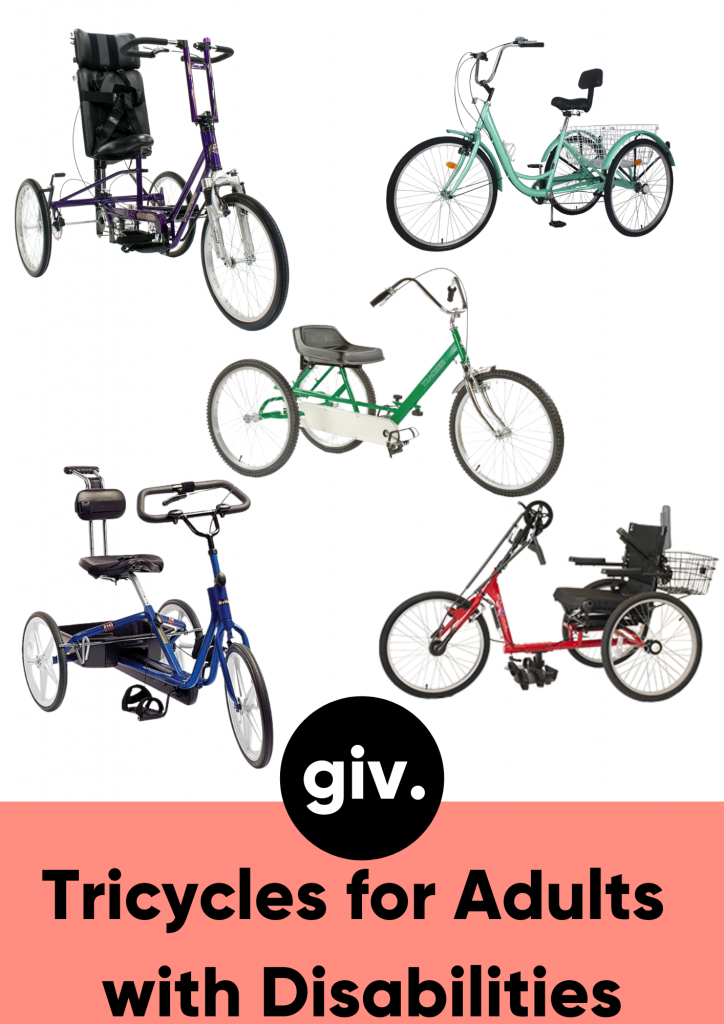 *As a disclaimer, please choose the most appropriate bike option for the user. A physical therapist could help make a proper bike recommendation. As always, wear a helmet when riding a bike of any kind.*
The Best Tricycles for Adults with Disabilities:
This is the cheapest option on the list and comes in at just over $300. It has a high back seat to offer support, but it doesn't come with any straps to secure the rider. This would be a great option for someone who has the core and leg strength to peddle a bike but just needs a bit more support than a traditional bike can offer. If the rider struggles to keep their feet on the pedals, you can purchase toe cage pedals for the user to slide their feet into in order to keep their feet in the proper position. You would simply just change the pedals the bike came with to the toe cage option. This is a very affordable and easy swap to make.
This is a true adaptive tricycle and retails for just under $2,000 (keep reading to the end for options for funding adaptive tricycles!). This bike offers a wider seat option than the previously mentioned bike. It's also weighted down more and is much heavier, which is good for someone without a lot of trunk control to make sure they don't tip. This bike comes with toe cages to keep the user's feet on the pedals. It does not come with additional safety straps, and the seat back doesn't offer a lot of support, so the user for this bike needs to keep those things in consideration.
This is probably the most supportive tricycle option on this list. The back of the bike goes all the way up to the users neck, and comes with a five point harness to offer the most security and stability possible. There is a handle on the back for caretakers to help push the rider if needed. It also has strap-in velcro pedals to help keep the user's feet stay in place. There are further customization options available such as tilt seating for those who cannot maintain an upright posture, and a heavy duty model for users over 350lbs.
Rifton is a popular and well known adaptive brand, most associate with their gait trainers. Their tricycles are a great product not to be missed, and they're probably the most well-known in the realm of adaptive tricycles. This bike can be customized to add chest, waist, and hip straps if needed to secure the rider into position. The backrest does not come up as high as the Freedom Concepts AS2000, so the user should have some trunk control for this bike. It also doesn't tilt back like the AS2000 as well. This tricycle does have velcro strap-in feet pedals to secure the feet into proper position. The seat itself is also fairly low to the ground making transfers from a walker or wheelchair easier since a huge step up onto the bike is not required.
This is a great option for users who are not able to pedal with their legs. This tricycle offers a hand crank so the user can maneuver the bike with use of their arms. It comes with a high supportive seat for the rider. The armrests on the bike lift up for easy transfers in and out of a wheelchair. This option can accommodate users up to 72 inches tall, which would fit most adults. This bike retails for $1500, making it one of the cheaper options on the list, while also providing a lot of adaptive benefits!
Special Funding Options for Tricycles for Adults with Disabilities:
One of the easiest options for getting an adaptive bike for free is through Shriner's Hospital. They have many locations throughout the USA, and even locations in Canada and Mexico. They have a bike program where if the user can pedal the bike five times, they will order one for you for free. It does take about 6 months to get the bike, and the bike they give is typically the Rifton Tricycle, although they could possibly have other options as well. The catch is that Shriner's is typically a children's hospital so if you have a teenager looking for an adult size bike this would be a great option to tap into before they hit 18.
There are also a number of foundations that will provide funding to individuals looking to fund the purchase of an adaptive bike for individuals with disabilities:
If you liked this post, Tricycles for Adults with Disabilities, you might also like: