With Easter coming up right around the corner we wanted to share some fun and inexpensive sensory Easter basket ideas. All of these items can be found at your local Walmart or Michael's Craft store, and can also be purchased online! We hope one of these items will be a great fit for you!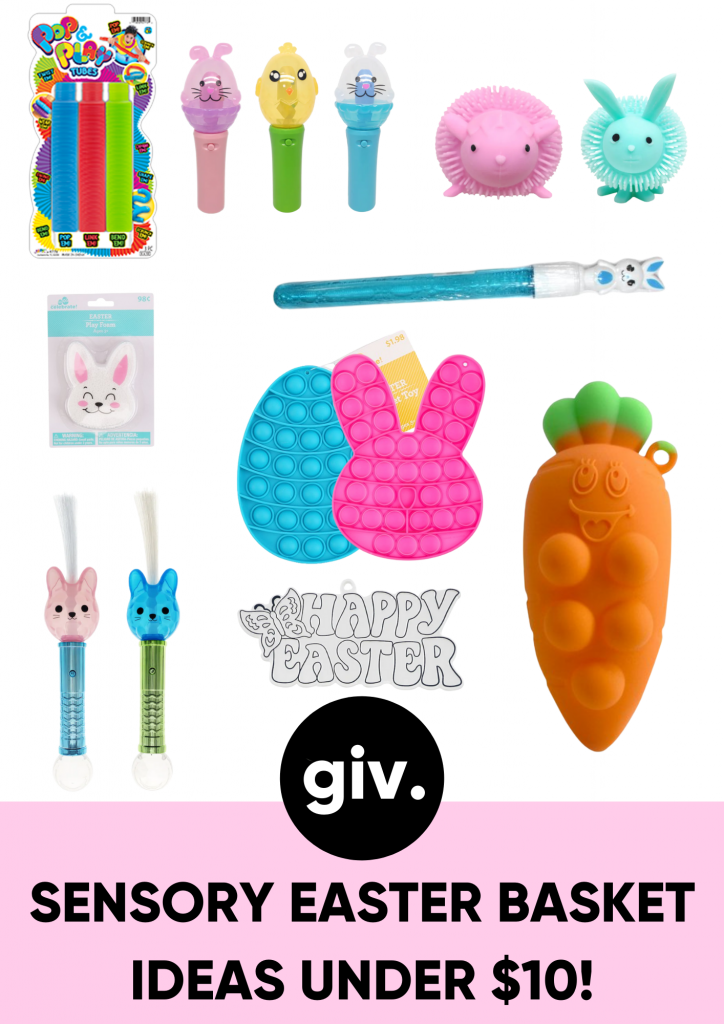 Who doesn't love blowing bubbles? These wands are only $.98 at your local Walmart store and are sure to be a big hit. Blowing bubbles can also help to strengthen muscles in the mouth that can help to improve speech and feeding skills, so consider this a great option that kids will love while helping to boost those oral motor muscles!
Kids love these wands! The lights and spinning inside the wand are great for kids that love the visual input, and these toys can be really motivating for kids during at-home therapy play as well. The can help with visual tracking, fine motor, and so much more.
These are a great find at Michael's Craft Store! The come in both bunny and little chick options. These ones are particularly fun because they light up which provides that great visual input, but sensory seekers will love squeezing and pulling on all the little fibers on them too!
These little painting kits are only $1.50 and are great for people of any age who love to paint, particularly those that don't mind messy play. These paint kits can help with fine motor skills, and it can provide great sensory play as kids touch the cold wet texture of the paint, giving them great tactile sensory feedback.
These bunny wands are just a little different from the last ones in that they don't spin and make a lot of noise, they simply light up through the entire wand, and through the fiber optic strands that come out the end. This is a great option for people who don't like loud noises but still love the visual input from all the different colored lights.
This Easter carrot stress ball is such a fun find. It's a combination of a stress ball and a pop-it toy in one! You can deep squeeze the entire carrot for good stress relief, but you can also fidget with it by popping the little bubbles on the sides!
These are great for kids who love and seek after loud noises. They make a large crackling noise when you pull them a part, and also give good feedback to your proprioceptive senses as you pull them apart and push them back together.
Everyone knows pop-its have become a huge craze recently. These Easter Egg versions are super festive for the upcoming holiday, and you can even grab a bunny one too. These are a great price at just $1.98 at your local Walmart store which is several dollars cheaper than you will find them anywhere else online!
This is another great activity for activating those tactile senses for kids who love messy play! The play foam is similar to play dough, but super bumpy and lumpy. This is only $.98 at Walmart and is another great easy option to toss into the Easter basket!
We hope this post provided you with some great options and inspiration for things you can put into your loved ones Easter basket! Remember to shop early before things sell out!
If you liked this post, 10 Sensory Easter Basket Ideas Under $5!, you might also like: