There are many benefits to group activities for adults with intellectual disabilities. If you're looking for meaningful activities for adults with a variety of disabilities these activities can be implemented in day programs, caregiving shifts, and monthly outings that fit the needs of the individuals.
Benefits of Group Activities for Adults with Intellectual Disabilities:
There are so many benefits for having adults with intellectual developmental disabilities (IDDs) participate in group activities. These benefits include, but are not limited to building friendships, enjoying social activities, increased self-esteem, independence, confidence, and social skills. Group activities are particularly important for individuals with IDDs who live at home and aren't currently participating in group homes or day programs. These individuals experience more isolation and feelings of loneliness than individuals who regularly participate in those mentioned programs.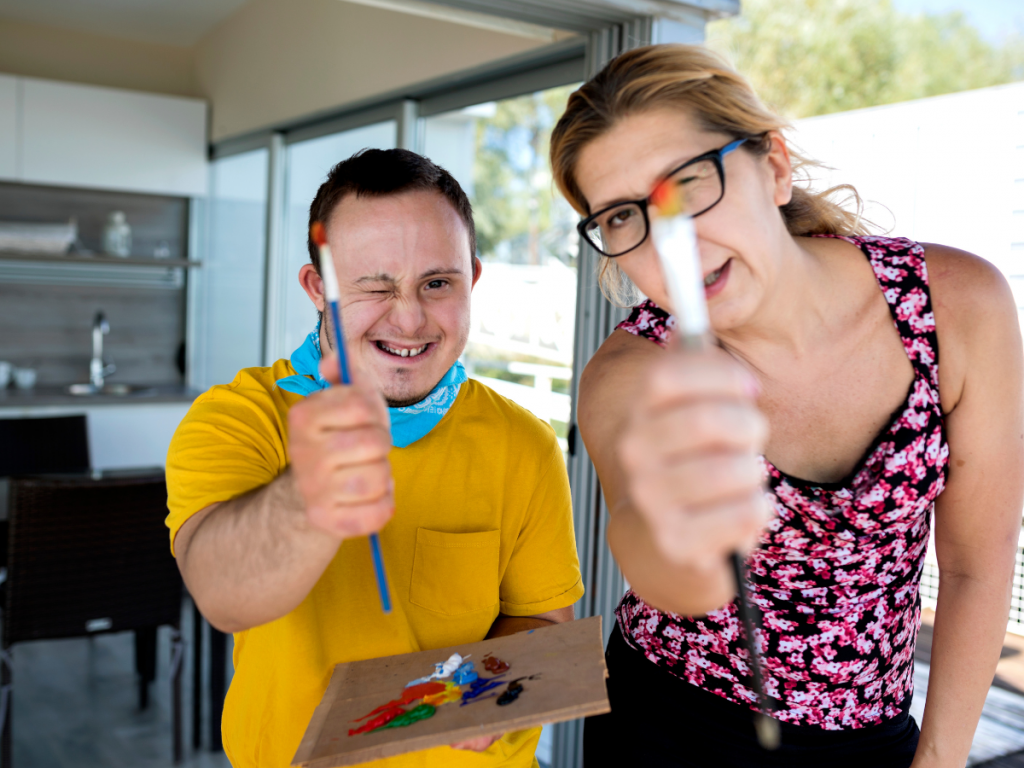 6 Group Activities for Adults with Intellectual Disabilities:
These six group activities are a great way to engage in social skills for adults with IDDs. Each of these activities target many different developmental goals the individual may be working toward. The expectation with this list is that parents or caregivers might be facilitating groups of adults with IDDs to get together either weekly, bi-weekly, monthly, etc… to facilitate these individuals getting together to participate in these activities.
Board Games:
Board games are a great activity because they can help foster friendships, improve social skills, turn taking, and problem solving. They can also be tricky for some adults with IDDs, so being flexible and able to adapt when things aren't working is important. If you're looking for some great board games for adults with Intellectual Disabilities check out our complete list.
Gardening:
Gardening has many benefits for an individuals mental health and well-being. It can improve mental health, mood, feelings of loneliness, and combat early signs of dementia. Pair those things by gardening with friends and you have a recipe for success. If you're local to the Salt Lake Valley, The Murray Greenhouse has a program for adults with disabilities to gather and garden together regularly.
Community Service (raking leaves, cleaning yards, etc…):
Getting together in the spring, summer, and fall to do yard work for other individuals is an excellent group activity for adults with IDDs. They can participate in raking leaves, pulling weeds in flower beds, laying mulch, and so many other tasks. If yard work isn't something that's an immediate possibility, check out our post about other service opportunities for adults with intellectual disabilities.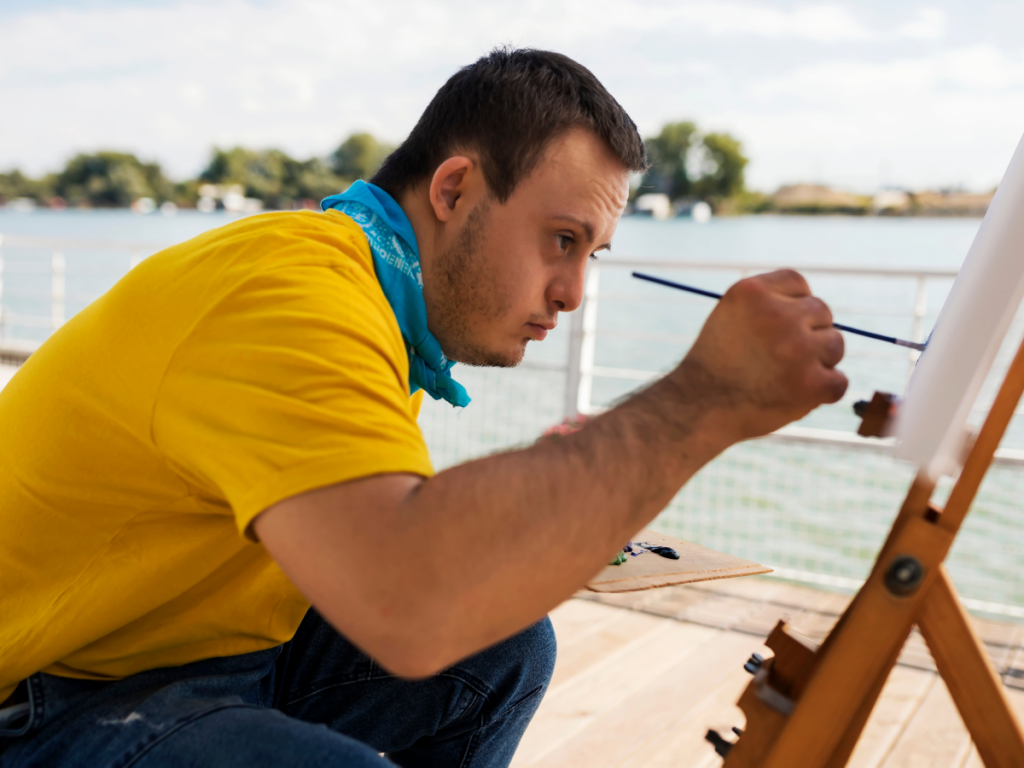 Monthly Seasonal Outings:
There are so many great seasonal activities that you can put on the calendar and get a group of people to participate in together. We've written many seasonal activity posts over the last several months that might be perfect for you to look through.
Arts and Crafts:
Arts and crafts are great for working on fine motor skills, motor planning, problem solving, creativity, and being flexible. Getting some friends together for an art group would be a great monthly activity. You can make seasonal crafts and have friends enjoy each other's company. If you're looking for some easy craft ideas for adults with disabilities, see this post here.
Lunch Group:
Who doesn't love to eat? A lunch group can be a great social activity to gather together, enjoy good food, work on social skills, and enjoy trying new foods. They can try new restaurants or enjoying their favorite locations time and again.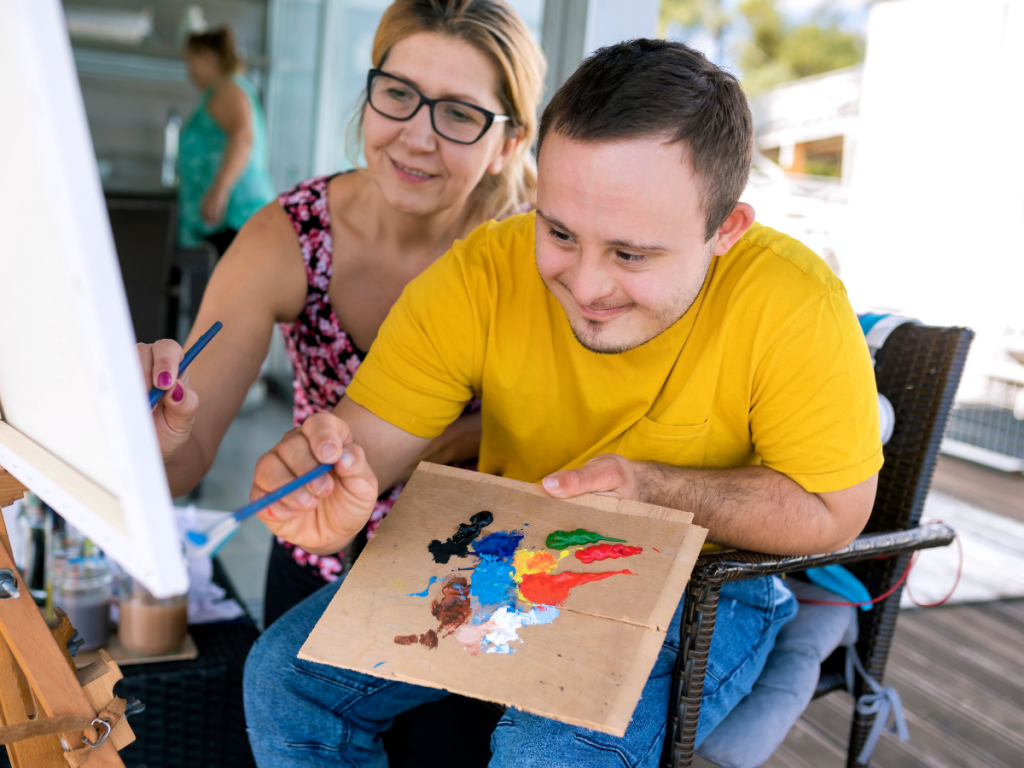 Join Social Groups For Adults with Disabilities:
There are many great social groups out there for adults with disabilities if you know where to look. Wherever you live, it's likely that there is a chapter of the special olympics in your area. They provide year round opportunities for adults with disabilities to participate in sports with one another.
If you're local to the state of Utah the LDS Church offers a wide variety of "Special Needs Activity Programs". These programs are all throughout the state of Utah. These activities are for anyone 12+ who has a disability. This program is typically held once a week for an hour or so at church locations all throughout the valley. For an extensive list of times, dates, and locations, see this blog post. It is written by a mom of a child with a disability.
We have a giv.care Facebook group that you can join to collaborate with other families. You can find those who might be interested organizing social activities for adults with disabilities in the state of Utah.
If you liked this post, Group Activities for Adults with Intellectual Disabilities, you might also like: